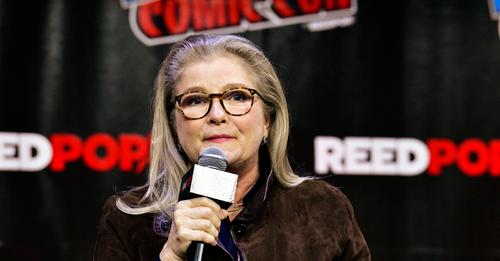 Kate Mulgrew thinks a Star Trek: Voyager movie could be fun
So far, only Star Trek: The Original Series and Star Trek: The Next Generation added movies after the series run of the shows. The Next Generation was also continued in Star Trek: Picard. And while Captain Janeway (Kate Mulgrew) and Admiral Janeway, along with Chakotay (Robert Beltran) from Voyager have returned to Star Trek: Prodigy in animation form, we have yet to see the entire crew back together. While we've got a documentary on the way, that's not quite the same as a movie that puts the entire crew back on the Voyager bridge. Fans just want something more, and it turns out, Mulgrew doesn't think it's a bad idea at all.
At New York Comic Con, a Collider writer asked Mulgrew her thoughts on a Voyager movie.
"I think a Voyager movie would be fun, and I think you're not alone in wanting to see that. I mean, this group, this crew was of terrific significance to thousands of people. So, I think to bring them together again, a little older, a little wiser, and a little saucier? That could be nothing short of very fun."
Full Article: https://redshirtsalwaysdie.com/2022/10/28/kate-mulgrew-thinks-a-star-trek-voyager-movie-could-be-fun/