Nichelle Nichols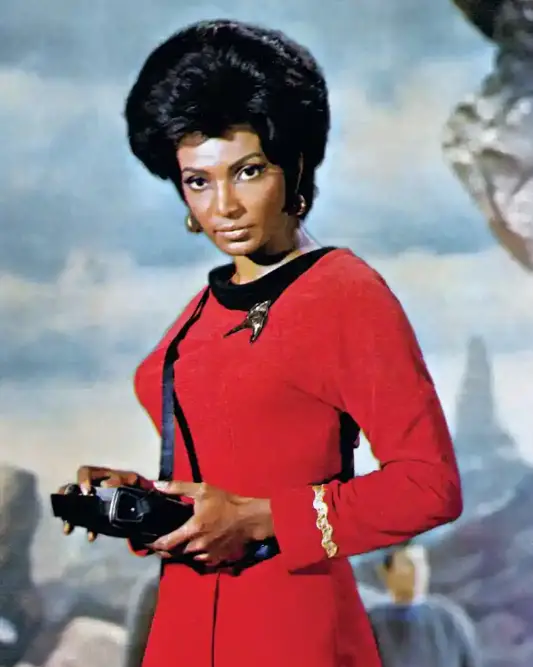 Series: TOS, Star Trek: The Animated Series (voice)
Movies: Star Trek: The Motion Picture, Star Trek II: The Wrath of Khan, Star Trek III: The Search for Spock, Star Trek IV: The Voyage Home, Star Trek V: The Final Frontier, Star Trek VI: The Undiscovered Country
Character(s): Nyota Uhura
Nichelle Nichols was one of the first black women featured in a major television series as her prominent supporting role as a bridge officer was unprecedented. During the first year of the series, Nichols was tempted to leave the series, as she wanted to pursue a Broadway career; however, a conversation with Dr. Martin Luther King Jr. changed her mind. She has said that King personally encouraged her to stay on the series, telling her that he was a big fan of Star Trek. He said she "could not give up" because she was playing a vital role model for black children and young women across the country, as well as for other children who would see blacks appearing as equals. In an interview, she said that the day after she told Roddenberry she planned to leave the show, she was at a fundraiser at the NAACP and was told there was a big fan who wanted to meet her. Nichols said:
"I thought it was a Trekkie, and so I said, 'Sure.' I looked across the room, and there was Dr. Martin Luther King walking towards me with this big grin on his face. He reached out to me and said, 'Yes, Ms. Nichols, I am your greatest fan.' He said that Star Trek was the only show that he, and his wife Coretta, would allow their three little children to stay up and watch. [She told King about her plans to leave the series.] I never got to tell him why, because he said, 'You can't. You're part of history.'
In her role as Lieutenant Uhura, Nichols kissed white actor William Shatner as Captain James T. Kirk in the November 22, 1968, Star Trek episode "Plato's Stepchildren". The episode is cited as the first example of an interracial kiss on scripted U.S. television. The Shatner/Nichols kiss was seen as groundbreaking, even though it was portrayed as having been forced by alien telekinesis. There was some praise and some protest. During the Comedy Central Roast of Shatner on August 20, 2006, Nichols jokingly referred to the kiss and said, "what do you say, let's make a little more TV history … and kiss my black ass!"
Nichols has also co-starred in six Star Trek films, the last one being Star Trek VI: The Undiscovered Country.
Like what you see? Buy us a Coffee!